Welcome to Cardeaux Cosmetics
Cardeaux is one of the most remarkable skin-care and makeup lines in the cosmetic industry. Established in the early 1970's, these unique products were originally created to serve the newly emerging facial-salon market.
[Read More]
INTRODUCING CARDEAUX CLINICAL BOTANICAL LIFTING STEM CELL SERUM
This amazing state-of-the-art product is designed to help tighten and improve skin's firmness, diminish wrinkles, even out skin tone, reduce rough patches and revitalize dull, aging skin. Apple stem cells assist in promoting the vitality and longevity of skin stem cells and protect them from damage due to environmental stress - 1 oz., $47.50
[More Information]

FREE GIFT OFFER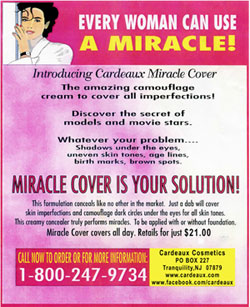 Please use the coupon code, "
freegift
", and receive a FREE lip liner pencil with purchase of
Miracle Cover
or
Rejuvenation Creme
. Coupon expires July 31st.
Welcome to Cardeaux.com